Is it just me or is everyone suffering from too much Shakespeare and Shakespeare-related theatre? Celebrating the life and commemorating the death of arguably England's greatest dramatist is indeed a noble and worthy cause, and it is quite incredible just how many companies have jumped on this particular bandwagon this year. However, I had, until now, yet to see a ballet company's take on the Bard.
The Birmingham Royal Ballet, one of the UK's leading ballet companies, is at Salford's Lowry Theatre until Saturday with their own homage to Will. The umbrella title of their production is Dream Bill, however in reality the company presents three short and totally unconnected works with an interval in between each.
The first, entitled simply 'Wink', is a contemporary piece based around 5 of Shakespeare's sonnets. The title comes from sonnet 43, 'When most I wink, then do mine eyes best see', and although the 5 sonnets chosen don't seem to be related in any way; this very stark and bold ballet manages to combine them quite effectively. It's a highly modern approach to set design, music, and process; and yet most of the dancing was really very traditional, as were the costumes and themes; and it was this strange juxtaposition which became so fascinating. The sonnets were spoken by an unseen voice (Alfie Jones) and in between each, specially commissioned music by Jakub Ciupinski. I really enjoyed the images created and the use of the black / white rotating boards (along with changing coloured cyc) was simple and extremely effective. The storyline was not particularly so clear however; which after all is the whole idea behind ballet - to tell a story in dance. I also found some of the moves by choreographer Jessica Lang to be very comical, especially one section where the dance became a mixture of a Scottish jig and Superman!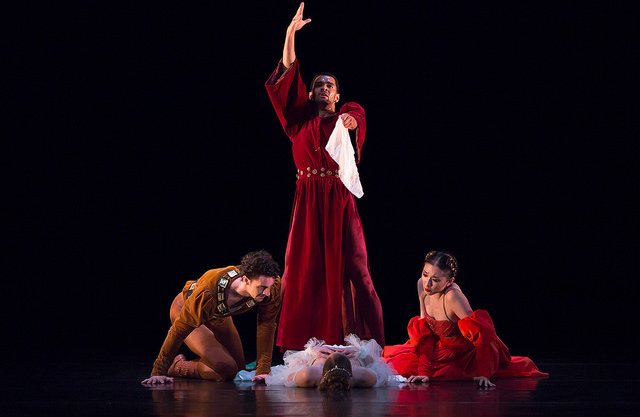 There was then an interval and after which we came back to see the second piece, The Moor's Pavane. A pavane is a slow and stately dance (originating from Padua in Italy) and so from the title we understand that we are using Othello as our starting point, and it will be his court and his dance. With music this time from Henry Purcell, we saw four dancers dressed in traditional Shakespearean costume dance variations on the theme of this most famous play with, of course Desdemona's death and Othello's grief making the final picture.
Again, a very stark and bare presentation with no set; just black everywhere and beautifully lit.
An emotional and this time, easy to understand narrative, and the four dancers were both elegant and masterful. Tyrone Singleton, Delia Mathews, Iain Mackay, and Samara Downs.
This time the choreography was by Jose Limon.
Finally, after our second interval, we came back to the auditorium to be treated to the longest and most accessible of the three pieces and the one that not only I but I suspect majority of the audience were most interested in; The Dream - yes, you've guessed it, a ballet of A Midsummer Night's Dream! Lasting just shy of an hour, this was traditional classical ballet to perfection. The curtain went up to a beautiful set showing a mystic and eerie forest glade with good use of levels and a hollowed-out tree trunk. We don't have the whole story, but we do have the main theme of the story which takes place in the enchanted wood peopled by the Goodfolk and their King and Quuen, Oberon and Titania. I surely don't need to tell anyone what happens, but rather than go back to Athens for the weddings, the couples embrace and betroth themselves to each other in the forest, and Oberon and Titania reaffirm their love after the meddlings of Puck made her fall in love with a travelling actor with an asses head.
The Corps de ballet here were the fairies, and were headed by first artists Arancha Baselga (Cobweb), Maureya Lebowitz (Peaseblossom), Angela Paul (Moth), and Ruth Brill (Mustardseed). Taking on the roles of the four Athenian mortals falling in and out of and back in love again were Samara Downs (Hermia), Tom Rogers (Lysander), Laura Purkiss (Helena), and Tyrone Singleton (Demetrius). Queen of the fairies, Titania was played by Mimoko Hirata; and all the aforementioned dancers were wonderful. However for me the three dancers who were simply outstanding in this were Cesar Morales as Oberon, Mathias Dingman's exuberant and highly energetically playful and mischievous Puck, and the lovely comedic antics of Kit Holder as Bottom.
The music was by Felix Mendelssohn, and it was woven perfectly and seamlessly into this tale with the best choreography of the evening by Frederick Ashton.
All three ballets were conducted by Paul Murphy with the Royal Ballet Sinfonia.
I have to say that the evening was not what I expected, and the three pieces are indeed very contrasting in music, style and feel. It was though a highly enjoyable evening's entertainment and excellently danced by all.
Reviewer: Mark Dee
Reviewed: 15th September 2016
North West End Rating: ★★★★
Photo: Andrew Ross