The West Yorkshire town of Halifax is undergoing something of a renaissance in recent years. The beautiful 18th Century Piece Hall has recently been refurbished and is now a cultural hub and open air venue. Every week, coaches packed with pensioners disgorge into the Calderdale Valley to see where 'Last Tango in Halifax' was filmed.
However, when you arrive in the town, it is the name of 'Quality Street' chocolates that dominates the landscape, Halifax being the centre of manufacturing the chocolate brand since 1936.
Northern Broadsides have also been an integral part of Halifax for nearly 30 years, bringing classic plays to the stage with a distinctive northern voice. New Artistic Director Laurie Samson has chosen to revive JM Barrie's delightful comedy as his inaugural offering and relocate it to the place most associated with the brand. The result is a sparkling, beautifully executed comedy of manners and misunderstanding.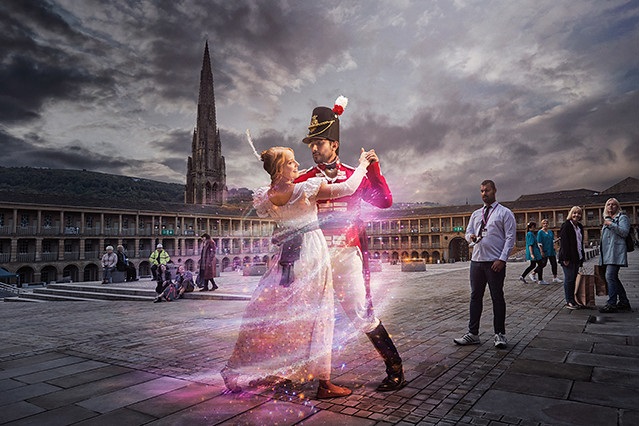 Although best known for 'Peter Pan', Barrie was already the most popular playwright in England at the turn of the 19th Century, with 'Quality Street' his biggest early success in London where it ran for over 450 performances. It is easy to see the nostalgic appeal of this romantic comedy set against the backdrop of the Napoleonic Wars in Regency England, but it also has a message that will chime with modern sensibilities too.
It tells the story of vivacious and beautiful Phoebe Throssel (Jessica Baglow) who loses her fortune and is reduced to teaching recalcitrant pupils in a school she sets up with her sister Susan (Louisa-May Parker). She expected a proposal of marriage from the dashing Valentine Brown (Dario Coates), but he rushes off to fight for King and Country with Wellington, leaving her bereft and to future spinsterhood. Upon his return from war a decade later, she decides to disguise herself as her own niece (Libby) and seduce Captain Brown as punishment for his feckless behaviour, with all the resultant misunderstanding and high farce you would expect.
What is most surprising was how well the text of the play stands up to modern scrutiny. Barrie has created Phoebe Throssel as a very modern heroine, she follows in direct lineage from Shakespeares Beatrice in 'Much Ado' through to Elizabeth Bennett and Emma Wodehouse in Austen, and would be familiar to anyone watching a modern Richard Curtis rom-com. The observational comedy around the modes of relationships and marriage were witty and crisp with the verbal sparring between the two protagonists feeling light and natural.
Barrie also drew on Shakespearean influence to bring in elements of disguise and cross dressing, alluded to with the supporting characters most notably Fanny Willoughby (Jim English) giving excellent value as the nosy neighbour. Similarly, Parker gives Susan Throssel a bewildered air which feels warmly familiar from classic literature. The costumes by Sarah Holland were coloured with a deliberate nod to the wrappers of the chocolates and the Ball scene at the outset of Act III was perfectly executed by Choreographer Ben Wright.
However, this show belongs to Phoebe; in both her guises as dowdy teacher and spirited ingenue Bigelow gives the character pathos, spirit and humour and her verbal sparring with Coates is deliciously delightful. Samson has also managed to highlight the proto-feminism of the character in some of her speeches and reactions, bringing to the fore another facet which will resonate with a modern audience.
I was less enamoured with the modernist twists that were incorporated into the production. At the outset and between acts, the stage was populated by what looked like refugees from Victoria Wood 'Dinner Ladies' sketch. Acting as a Yorkshire version of a Greek chorus, they purported to comment on the show whilst changing scenery and props. Their lines were apparently the real reactions of Quality Street workers from the factory, but this added little and indeed broke the mood badly at the conclusion, jarring saccharine sweet sentimentality with the fresh satirical voice of the original piece.
In a similar vein, the white metallic set was presumably a nod to the factory setting but felt incongruous when purporting to be a Regency drawing room setting.
However, rather like the Coconut Eclair in a tin of the eponymous chocolates, these aspects were the few things to dislike in this production. We owe Northern Broadsides a debt of gratitude for dusting off this excellent light comedy and presenting it to a modern audience.
Reviewer: Paul Wilcox
Reviewed: 25th February 2020
North West End UK Rating: ★★★★