Adapted for the stage by Stephen Briggs, the play, directed here by Barry Prescott, tells the story of Mort (Alexander Breatnach) whose father, Lezek (Mark Prescott), hands him over to Death (Gareth Crawshaw) to become his apprentice which entitles him to free bed and board, prepared by Death's ever faithful manservant Albert (Nick Fawdry) as well as free use of the company horse, and it's not long before he meets Death's adopted daughter Ysabel (Laura Smith) who has been 16 for 35 years!
The trouble begins though when Death decides to have some time off to find out a bit more about life and living, leaving Mort in charge and following an encounter with an incompetent wizard, Cutwell (Mike Sanders), and a talking doorknocker (Liam Carr), he decides to kill a would-be-assassin rather than the intended victim, Princess Keli (Sian Watson), and in doing so the course of history begins to unravel. Can Mort put things right? Does he want to? Will death reappear, or does he just want to have fun?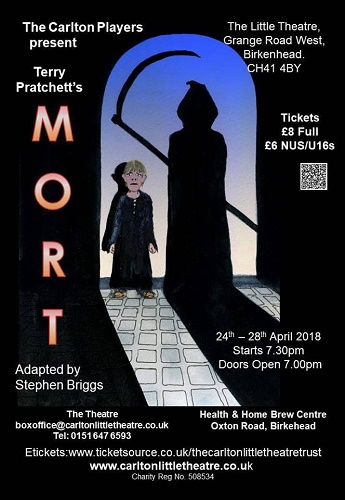 And who is not who they seem to be? Come along and find out in this clever mix of silly jokes and comic acting which is the perfect recipe for an evening's entertainment, which is supported throughout by a strong ensemble playing a number of roles, so in addition to M Prescott and Carr, we also have Marc Smith, Chris Clinton, Keith Hill, Colin Wood, Liz Youster, Susan Braddock, and Steph Birch providing admirable support.
One of the challenges of this production is the multiple scene changes and Carlton Players are to be commended for the way they set up their staging to allow this to be achieved effectively throughout with very little downtime and I would like to note the contributions of Pam Buckle and Steve Jones for effectively pulling this off. In addition, you need a strong cast to drive it through and some seasoned players certainly stepped up to the plate: Fawdry gave a masterclass in comic acting; Sanders was accomplished as always; Crawshaw caught the ever-changing viewpoints of Death brilliantly, despite the sometimes restriction of his costume. What is particularly pleasing though is to highlight members of the ensemble who stepped forward and some, so hats off to Youster and Hill who excelled in each of their various roles tonight. And then there's M Prescott: laugh out loud comic acting – he's a delight to watch.
I'm unclear whether a new microphone system has been installed as initially there were some sound issues although these were soon resolved. I thought the choice of music perfectly reflected the changing moods throughout. The costumes were exquisite as we moved between different time periods.
The Little Theatre in Birkenhead is a delightful venue complete with bar and seating almost 300 including full disabled access. There is free parking to the rear of the theatre from 6.30pm.
The Carlton Players are the resident company and produce several plays throughout the year including a pantomime. They are always looking for new members so why not get involved?
Terry Pratchett's Mort runs through to Saturday 28th April 2018, doors open at 7.00pm with performances commencing at 7.30pm. Tickets £8 (£6 concessions) and available at the Box Office on 0151 647 6593 (email: This email address is being protected from spambots. You need JavaScript enabled to view it.) or via www.ticketsource.co.uk/thecarltonlittletheatretrust
Further details of upcoming productions for the season can be found at www.carltonlittletheatre.co.uk
Footnote: Dr Eve Smith of LJMU is undertaking an audience survey at https://ljmu.onlinesurveys.ac.uk/mort-audience-survey following on from an original survey some ten years ago so please do support her work if you get along to see the show.
Reviewer: Mark Davoren
Reviewed: 24th April 2018