"They fuck you up, your mum and dad.
They may not mean to, but they do.
They fill you with the faults they had
And add some extra, just for you."
The lines of Philip Larkin's immortal 'This be the Verse' were running on a loop in my head as I left Altrincham Garrick, following the opening night of 'When the Rain Stops Falling' by Australian dramatist Andrew Bovell. I knew nothing of the play, and I had only taken on the review at the last minute, convinced to attend by the opportunity to see local Director Joseph Meighan in a rare acting role. Two hours later, I'd seen my best production so far of 2020 and the theatre had once again astounded me with its ability to surprise and provoke.
Set over an eighty year time span between 1959 to 2039, Bovell has chronicled the lives of four generations of one family from London to Australia, as they struggle to cope with the mistakes they make as people and parents and come to terms with their past and its effect on their life choices. He chooses Alice Springs in 2039 as his jumping off point, Gabriel York (Mark Butt, who also directs) waits for a visit from his estranged son Andrew (James London) and with his blistering opening monologue sets the tone and language for what is to follow.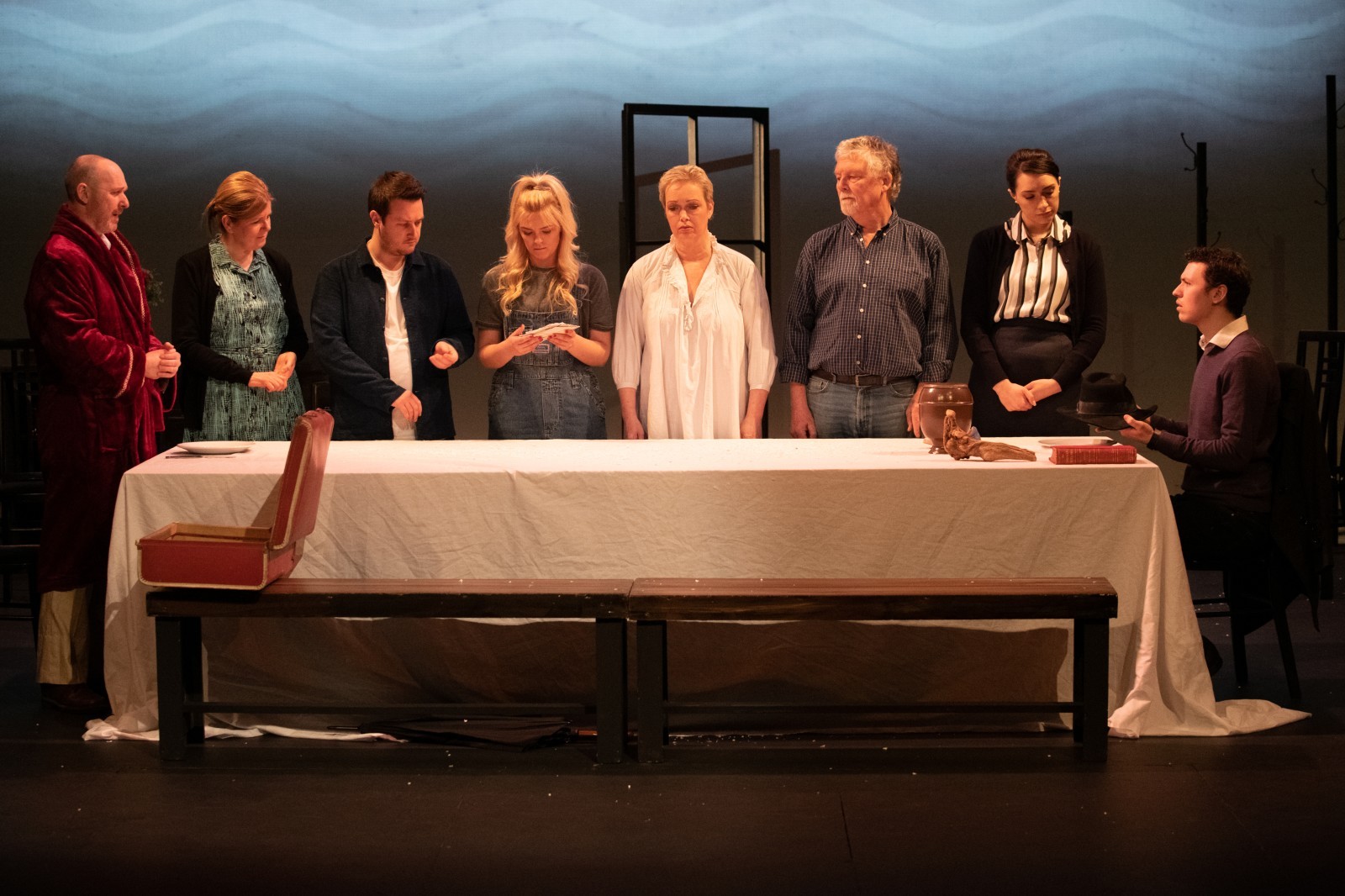 A circular, non-linear narrative is employed to explore the relationships between his grand parents Henry Law (John Joyce-O'Keefe) and Elizabeth (Parissa Zamanpour & Ros Greenwood); their son Gabriel Law (Joseph Meighan) and his blossoming romance with Gabrielle York ( Alex Edge & Beverley Stuart-Cole) and her subsequent meeting and life with Joe Ryan (Richard Sails).
If this sounds confusing, it is purposefully so, with three variations of the same name (Gabriel) employed for separate characters and a continuously shifting time line, this is play that rewards total concentration. As we bounce between Eighties London and modern Australia, past secrets about the characters slowly begin to emerge and it is only at the very end that the completed narrative is brought to a darkly satisfying conclusion and full understanding is reached by the audience.
The theme of repetition of past mistakes is starkly underlined in the language used by Bovell in the play. Scenarios and dialogue are constantly repeated down the years to emphasise the inherited similarities through the family, creating a claustrophobic atmosphere that suited the secretive family dynamic. Fathers do not fare well here, always leaving by accident or design, with only stepfather Ryan coming out with any credit for his paternal instincts.
This is a great play for actors with nearly every role having strong monologues and emotional depth to mine. The company did not let down the material, with uniformly excellent performances from a very experienced cast. Meighan and Edge developed the love story with beautiful sincerity, made more poignant by already knowing the fate of Gabriel; Stuart-Cole portrayed Alzheimer's with convincing confusion and rage and Joyce-O'Keefe gave pathos and depth to a character who ostensibly lacked sympathy.
As Director, Mark Butt chose to place an interval in the middle of the two hour run, where non existed in the original staging. Judging by audience reaction, this was a smart move as everyone around me expounded their own interpretations and explanations of the convoluted plot over a swift G&T. In a similar vein, the family tree projected onto the back cloth aided understanding of the relationships between the characters greatly.
Certain elements of the piece felt overwritten, most notably the referencing of 18th century philosophy and a concentration on past cataclysmic weather events which were part of a wider motif around climate change. Whilst there was a tenuous link between this theme and the central plot, in this production it felt superfluous to the family drama which was what excited and intrigued.
Overall, a complex emotional and nuanced piece of writing by Bovell, beautifully executed by an experienced cast. Get to the Garrick before Saturday, this is one of the highlights of an excellent season and deserves to be seen.
Reviewer: Paul Wilcox
Reviewed: 2nd March 2020
North West End UK Rating: ★★★★