A Midsummer Night's Dream is one of Shakespeare's most popular comedies and is widely performed worldwide, with one of its many delights being the three interconnected stories within one overarching theme with the further added bonus of a fourth story if you count the hilarious rendition of Pyramus and Thisbe at the end.
In a cleverly choreographed battle scene opening, we meet the Duke, Theseus (John Light), and his newly conquered betrothed, Hippolyta (Michelle Terry), whose animosity crackled across the stage. Egeus (Edward Peel) interrupts proceedings to complain about his daughter, Hermia (Olivia Ross), who loves Lysander (Luke Thompson) despite her father's preferred match of Demetrius (Joshua Silver), who in turn is unwelcomingly pursued by Helena (Sarah MacRae). Hermia's choice is clear: follow your father's wishes or face either death or life as a nun. Unsurprisingly she chooses to steal away with Lysander in the night through the forest, rapidly pursued by Demetrius and Helena.
Also preparing to set out for the forest are the mechanicals (craftsmen turned amateur actors) - Bottom (Pearce Quigley), Flute (Christopher Logan), Snout (Tom Lawrence), Starveling (Huss Garbiya), and Snug (Peel) - who, under the direction of Quince (Fergal McElherron), are preparing a play for the Duke's wedding.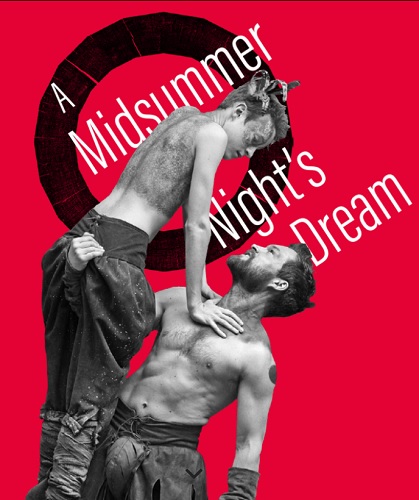 And it is here in the forest that we meet the mischievous Puck (Matthew Tennyson) whose master is Oberon (Light), King of the Fairies, whilst his Queen, Titania (Terry), is served by Peasblossom (Stephanie Racine), Mustardseed (C Logan), Cobweb (Tala Gouveia), and Moth (Molly Logan). A little domestic disagreement ensues and as the paths of lovers, workmen, and fairies cross, dark mischief is in the air, despite the well-meaning intentions of Oberon, as lovers become opposed and fairy magic provokes merriment and fear in equal measure.
After the amusement has unravelled, Puck's challenge becomes to right his wrongs and as lovers are reconciled, new found relationships proven true and accepted, there is not one but three weddings. As the earlier nightmares are dismissed as bad dreams, we are deservingly treated to the mechanicals' hilarious performance of 'Pyramus and Thisbe'.
This was a strong production from director Dominic Dromgoole with designer Jonathan Fensom emulating Renaissance costume and staging with the piece very much played for laughs with all the cast capturing the mood and passion of their characters in well-choreographed routines from Siân Williams accompanied by original music from Claire van Kampen and performed live by musicians (Emily Baines; Arngeir Hauksson; Sarah Humphrys; Nicholas Perry) playing traditional instruments under the lead of George Bartle. Light caught the intensity of both Theseus and Oberon, while Ross and MacRae both delightfully shone, especially when playing off each other. The standout though was Quigley who revels in all Shakespearean productions as the eponymous clown and starring here as Bottom with his Pyramus literally to die for!
If I have any criticism it would be that for what is already a long piece, the closing sequence whilst perhaps serving as a faithful nod to Elizabethan performance was overlong and out of place with the mood of the piece. Equally there's a darker side to this piece that is often ignored, as it was here, which is a shame as it would have allowed Tennyson to give us so much more with his Puck.
A Midsummer Night's Dream is available to view HERE until Sunday 28th June 2020. During these challenging times, donations are gratefully received at https://www.shakespearesglobe.com/
A strong production very much played for laughs
Reviewer: Mark Davoren
Reviewed: 15th June 2020
North West End UK Rating: ★★★★★